Polypropylene fiber "X Mesh"
Intended use
Fiber X Mesh is a textured synthetic macrofiber made from oriented polypropylene copolymer in the form of twisted rigid fibers treated with a special composition that improves adhesion to concrete.
Length Fiber X Mesh 23; 39; 54 mm
Properties
Fiber X Mesh
volume distribution in a concrete matrix, reduction of cracking and segregation
Increase in tensile strength in bending
Increased shock resistance
High efficiency of energy absorption at a low gauging
Increased fire resistance
Corrosion resistance in aggressive environments
Lack of wear effect of concrete mixing and feeding units
Economic benefits (speeding up work, reducing labour inputs, reducing logistics costs)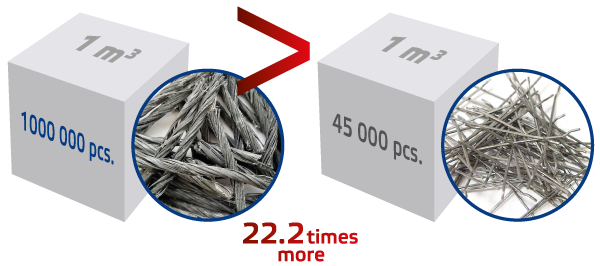 1 м³
of concrete mix contains
1 000 000 pcs
. PoliArm polypropylene Fiber X Mesh * compared with 45000 pcs. steel fibers* - i.e.
22.2 times more
elementary fibers.
*At dosage rate of
Fiber X Mesh 2kg/м³
length of fibre 39 mm.
Applications
Industrial concrete floors
Sand cement screeds
Mortars
Small architectural forms casted from concrete
Parking lots, car parks
Road, bridge and airfield surfacings
Shortcrete
Concrete structural elements of residential and non-residential buildings, tunnels, mines, roads, bridges
Hydraulic facilities
Bank vaults
Concretes of classes B5-B100, etc.
Number of fibers per 1 kg
| | | |
| --- | --- | --- |
| 23 mm | - | 900 000 pcs. |
| 39 mm | - | 500 000 pcs. |
| 54 mm | - | 375 000 pcs. |
Dosage recommendations
Layer thickness,
mm
Fiber length,
*mm
Fiber consumption,
**kg/m3
Up to 100
X Mesh 23/39
1-3
Over 100
X Mesh 39/54
* The fiber length used depends on concrete coating thickness and on particle size of aggregates.
** Dosage depends on application.