RECOMMENDATIONS FOR USE
With addition of

TM FIBER MicroArm

there is no need to use shrinkage reinforcement mesh
No special equipment or tools are required to add

MicroArm TM FIBER

to concrete. No premixing with water is needed.
It is recommended to add

MicroArm TM FIBER

fiber at initial stage of mixing
Fiber

MicroArm TM FIBER

is distributed uniformly both in ready-mix concrete and in case of dry mixing of ingredients (sand, crushed stone, cement)
The fiber can be added to concrete mix during transportation in concrete mixer trucks
Polymer-fiber reinforced concrete can be applied to vertical surfaces mechanically using a concrete pump or a concrete sprayer to produce a shotcrete coating
MIXING
Fiber

MicroArm TM "FIBER"

can be mixed using any types of mixers such as gravity mixers, forced mixers, or manually.
Add fiber of required

MicroArm TM FIBER

length to concrete in an amount according to recommended dosage rates calculated as per 1 m3.
Mix thoroughly to ensure even distribution of fiber: manual mixing – up to 6 minutes*, mechanical mixing – 2 to 4 minutes*
When fiber is added

MicroArm TM FIBER

to ready mixed concrete directly into a concrete mixer truck (a mixer), the mixing operation shall be carried out at high speed until the fiber is distributed uniformly
* The mixing time indicated is recommended for
MicroArm TM FIBER
fiber dosage rates of 0.6 to 0.9 kg per 1 m
3
. For higher dosage rates, the mixing time may be extended until uniform distribution of fiber is obtained.



STORAGE
Fiber

MicroArm TM FIBER

should be stored in original closed packages in dry ventilated premises.
Storage temperature:

from -40° to +80° С

Store out of direct sunlight.
After storage at sub-zero temperature, keep the fiber at above-zero temperature for at least 12 hours before use.
Storage time is unlimited provided the recommended storage conditions are observed.
Shelf life is not limited under recommended storage conditions.
RECYCLING
The fiber and package are recyclable. They may be disposed of as household wastes.
PACKING
Polypropylene fiber

MicroArm TM FIBER

is available in polyethylene bags.

0.6 kg and 0.9 kg .

Storage of polymer fiber:

560 packages (504 kg)

on a europallet.
PERFORMANCE DATA
Fiber Class Ι
| | |
| --- | --- |
| Line Density: | 0.3+/-0.5 tex |
| Diameter: | 0,02 mm |
| Length: | from 2 to 36 mm |
| Material: | virgin polypropylene 100% |
| Specific gravity: | 0,91 kg/m3 |
| Young's modulus: | 3,500 N/mm |
| Tensile strength: | 360-560 N/mm2 |
| Softening temperature: | 156°С |
| Color: | transparent white |
| Recommended flow: | 0.6 to 2.5 kg per m3 of concrete |
| Chemical resistance to acids, alkalis, solvents: | complete resistance to all |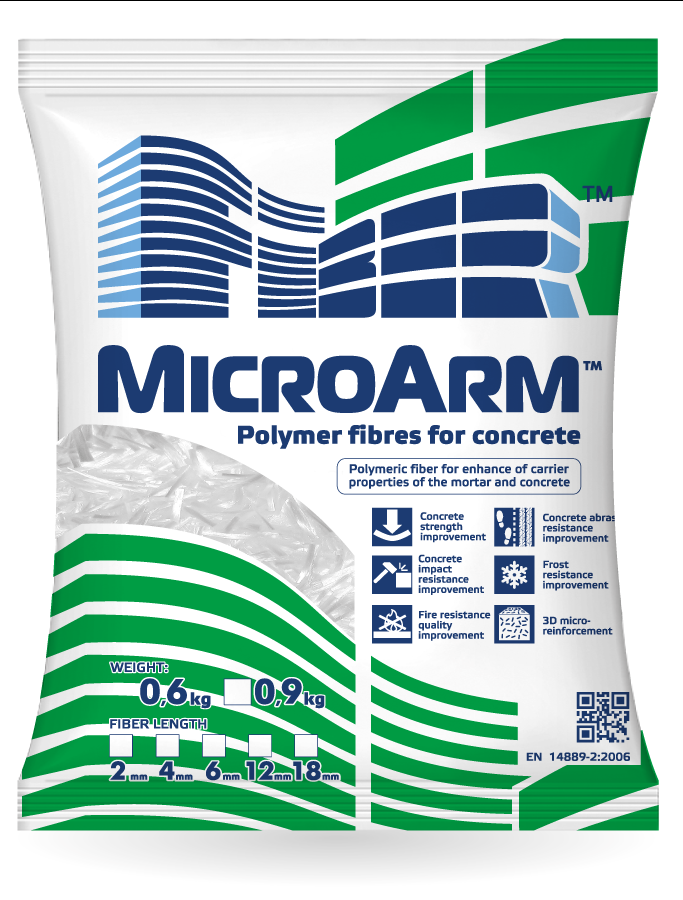 Notes
It is recommended that personal respiratory protection equipment (respirators) should be used during operations with the fiber

MicroArm TM FIBER

is compatible with any concrete admixtures
Finished reinforced surface requires no additional surface treatment